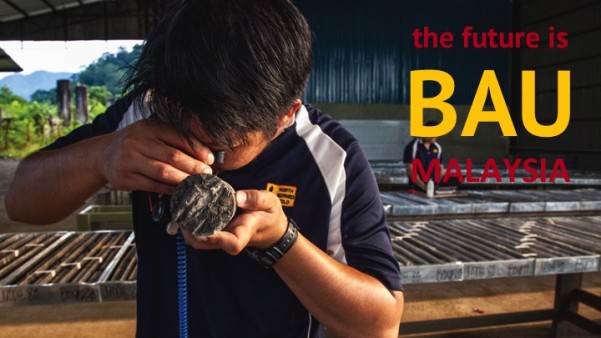 The Bau Project is Besra's exciting new development located in Sarawak in East Malaysia. In January 2014 we released the Stage 1 Feasibility Study that marks a major step forward in Besra's corporate development.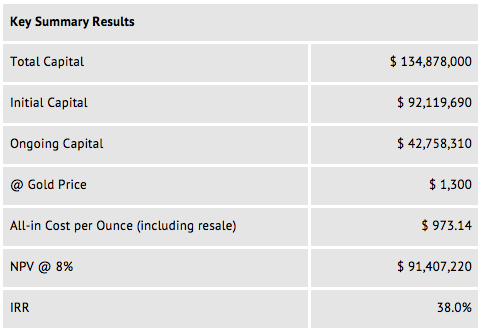 Having already brought two gold mines into production in Vietnam, one of the toughest mining jurisdictions in the world, we now turn our attention to East Malaysia where we have established an economic justification and the technical feasibility of bringing the multi-deposit Bau property into first stage production.
The initial four year mine life will be extended as nearby deposits are developed utilizing existing plant and infrastructure, and having the effect of further improving the project economics. A Stage 2 pre-feasibility study has already commenced incorporating southwesterly extensions of the Jugan Hill deposit and adjacent deposits.  Stage 2 is expected to extend the mine life to 12 years, increase total production to more than 1 m oz and should at least replicate or exceed the financial returns of Stage 1.
Bau is a historic goldfield dating back to the mid 1800's. Past gold production, mostly from multiple shallow pits, is estimated at 3 million ounces. The goldfield still remains largely unexplored using modern techniques. Since 2006, Besra has been consolidating mining tenure over approximately 350 sq km of the most prospective parts of the goldfield and is now systematically exploring multiple gold deposits and prospective zones. Current JORC/NI 43-101 resources stand at 21,285,300 tonnes @ 1.64 g/t Au for 1,124,900 ounces (measured + indicated) and 51,329,000 tonnes @ 1.32 g/t Au for 2,181,600 ounces (inferred). These resources reflect a low discovery cost of US$6.00 per ounce.
Bau exploration remains at relatively early stage, with multiple deposits at various stages of exploration development and many prospective zones as yet entirely unexplored. Geological potential for substantially higher-grade mineralisation has also been identified at depth. The exploration success rate suggests that continued exploration has the potential to progressively expand resources and reserves over decades to come; with the potential to establish Bau as one of the major goldfields of Asia.
After considering numerous different process routes, the Stage 1 (Jugan Hill) feasibility study identified an optimum process (crush, grind and float) to produce a gold-rich concentrate that initially will be shipped for smelting and refining.  As a result, significant savings will be made on capital costs and financing of the development should be attainable on more attractive terms. Besra is in discussions with Asian companies for a smelter off-take agreement, several of which have tested and confirmed their ability to process the concentrate. An indicative offer has already been received from one of the four smelters with more expected in the coming weeks. The completed Stage 1 feasibility study is intended to be released once suitable commercial terms for concentrate sales have been finalised, with pre-feasibility on Stage 2 to follow thereafter.
Once in production, the Bau project is estimated to be in the top 15 largest gold producing properties in Asia (ranked according to JORC/NI43-101 resources).  Besra expects the property will ultimately assume a more prominent position as exploration continues to convert large-scale geological potential into resources.
The Bau project has presented no fatal flaws. East Malaysia provides an encouraging environment for mining and foreign investment with a 0% gold royalty and 24% corporate income tax rate.  Additionally, the Bau project is located 40 km via good roads from a deep water port in the Sarawak state capital of Kuching, and within 30 km of Kuching International Airport. High quality infrastructure and services already exist and there is a supportive and skilled English speaking workforce with good education levels and significant mining or quarrying experience.

What follows is the Executive Summary of that report.
1.         Stage 1 Feasibility Report – Executive Summary
1.1       Introduction
This executive summary lists some of the highlights and important aspects of the Feasibility Study and is intended as a brief summary of the project and study.
1.2       Property Description & Location
The Bau Goldfield projects are located on the Island of Borneo in Sarawak, Federation of Malaysia. The project area is centered on the township of Bau some 40 km WSW of the state capital of Kuching (population ~640,000).
Besra's Bau Project is a brown-field project comprising Mining and Exploration tenements that cover more than 1,340km2 of the most highly-prospective ground within the historic Bau Goldfield, spread over 3 regions in Sarawak. The main focus of Besra's activities are Blocks A and B which relate to the Bau district.  The other two regions, known as Block C and Gunong Rawan lie east of Bau nearer to the Sarawak/Kalimantan border and these are earlier stage exploration projects.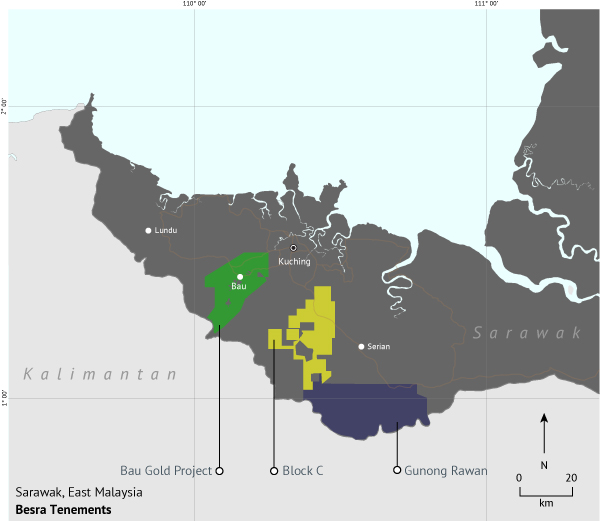 1.3       Ownership & Tenure
1.3.1     Ownership
Besra Gold Inc. (formally Olympus Pacific Minerals Inc. (Olympus)) (Besra) is a Canadian incorporated public company listed on the Toronto Stock Exchange, on the Australian Securities Exchange and trades on the OTCQX Bulletin Board in the United States. Its head office is located in Toronto.
On 17th December 2009, shareholders of Zedex Minerals Limited (Zedex) amalgamated with Olympus Pacific Minerals. Following the amalgamation Olympus commenced trading on the ASX on 5th February 2010.
One of the assets acquired by Olympus through the amalgamation was Zedex's interest in the Bau Gold Field in Sarawak, Malaysia.
In November 2012 Olympus Pacific Minerals Inc. was renamed Besra Gold Inc.
The Bau Project JV is managed by Besra through its majority owned subsidiary, North Borneo Gold Sdn Bhd, (NBG) a Malaysian incorporated company. The other shareholders are a Malaysian Mining Group, Gladioli Enterprises Sdn Bhd (Gladioli) and Golden Celesta Sdn Bhd.
The Bau Project is currently 92.06% owned and controlled by Besra Inc. with the minority of the project owned by a local partner.  Besra has an agreement to acquire a further 7.94% from the partner for payments from December 2013 to September 2015 totalling $7.85m.
1.3.2     Tenure
All mineral resources in Malaysia are state owned. Exploration and mining rights are issued subject to the recently gazetted Minerals Ordinance 2004 which has an effective commencement date of 1 July, 2010, and Mining Rules (1995). The prospecting, exploration and mining tenure is in the form of a GPL (general prospecting licence), EPL (exclusive prospecting licence), MC (mining certificate) and ML (mining lease). These tenure types and associated information are outlined in the body of the report.
Besra Inc. through its JV Company and associated partner hold a number of granted licenses and/or application renewals on existing licences. These are listed in the body of this report. The licences for the Bau area (Block A & B) are shown below.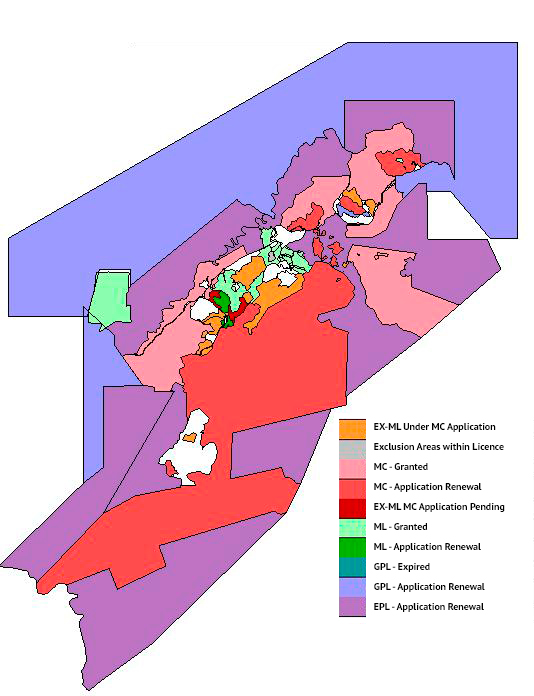 1.4       Resources & Infrastructure
The Kuching District, (including Bau) has a population of approx. 640,000 people. At Bau the main population groupings are Bidayuh, from the Dyak ethnic group, and Chinese who are mainly descendants of early miners who came to the area in the mid to late 19th Century to exploit the gold and antimony deposits at Bau. Sarawak has a per capita GDP of US$1,400. Mining represents about 20% of Sarawak's GDP.
The main industries in the Bau district are limestone quarrying, fish farming, rice farming, palm oil and rubber production, and now mineral exploration.
The Bau Project generally has good infrastructural aspects both within Bau Township and in Kuching. The main infrastructural features are:
Regular and reliable international air services to Kuching from Kuala Lumpur, Singapore, Hong Kong and Indonesia. Airport is only 35-40 minute drive from the project area;
Two ports with good dock and storage facilities;
Two main sealed trunk roads from Kuching for delivery of supplies, heavy plant and equipment to the plant site;
Excellent labour and engineering support services;
Easy Accessibility – project extremities are less than a 20 minute drive from the exploration base, and all important mines and gold prospects are linked by road;
Area is serviced with power and water;
The official language in Sarawak is Bahasa Malaysia, but most local communities speak English as a second language and have their own local dialects;
Well educated workforce;
An active quarrying industry focused mainly on limestone and marble for roading aggregates and agricultural purposes;
Ready supply of earthmoving equipment that supports the quarrying industry;
A local labour source with mining experience gained from the quarrying industry and past gold mining activity.
1.5       History
The Bau Goldfield has been intermittently mined since the mid 19th Century. Historic production is estimated at > 3M oz gold. The most recent was the Tai Parit mine, which closed in 1996 after producing 1.2M oz gold from a single open-pit averaging 7 g/t Au. It is important to note that this pit was closed at the time due to fall in gold price to below $300/oz making mining at the time uneconomic, the pit was not mined out at the point of closure.
1.6       Geology & Mineralisation
1.6.1     Regional Setting
The Bau Goldfield lies within the Borneo metalliferous belt, which contains several other important gold mining areas, including: Kelian, Mamut (gold-copper) and Mt Muro. This belt and the associated gold mining areas are shown in below.
The geology and mineralization of the Bau Goldfield have been compared with that of the Carlin District of Nevada, USA (cumulative production > 60M oz) and there are a number of similarities. These are listed below.
1.6.2     Geological Setting
The exposed rocks in the Bau district are dominated by a sequence of late Jurassic to early Cretaceous aged marine sediments. These comprise a lower limestone formation, the Bau Limestone, estimated to be 500 metre thick that is unconformably overlain by a 1,500 metre thick flysch sequence, known as the Pedawan Formation. The Pedawan Formation is dominated by shale but more arenaceous and conglomeratic units are reasonably widespread through the sequence.
The oldest rocks known in the Bau Goldfield are the Triassic-aged Serian andesitic volcanics. These do not crop out but have been intersected in drill holes at Bau, beneath the Bau limestone. An intrusive known as the Jagoi Granodiorite is thought to be co-eval with the Serian Volcanics and it crops out 15 km SW of Bau on the Indonesian border.
The Bau Limestone has a lowermost ~100 metre thick arenaceous unit, (the Krian Member), which also contains basal conglomerate beds. The Krian sandstones rest unconformably on the Serian Volcanics. The principle rock types and structures of the Bau Goldfield are shown below.
A striking feature of the Bau District is a series of uplifted horst blocks of Bau Limestone juxtaposing the generally stratigraphically higher Pedawan formation. Throws on the NNE and SE trending controlling graben faults are in the order of 300 metres. Surrounding the horsts of limestone is a peneplane of Bau limestone with typical karst features and the overlying Pedawan formation.
The Pedawan Formation and Bau Limestone represent fore-arc shelf and slope deposits developed to the north of a Cretaceous magmatic arc, remnants of the arc are preserved as a granite belt in the Schwaner Ranges in Central Kalimantan.
1.6.3     Deposit Type/Mineralisation
There are four distinct mineralisation or deposit styles in the Bau goldfield. The deposit/mineralisation types are:
Disseminated sediment hosted
Silica replacement and breccias
Magno-calcite quartz veining
Porphyry-skarns
Each of the 34 deposits or prospects contains one or more of these styles of mineralisation covering an extent of 15km NE-SW by 7-8km NW-SE. The goldfield extents are shown in Figure Error! No text of specified style in document.‑7 – Bau Goldfield Extents with Sectors & Deposits/Prospects below, along with the sectors (yellow text) and the deposits/prospects (red text).
1.7       Mineral Resources
The mineral resources listed below are a combination of the 2010 resources as published in August 2010 and included in the 43-101 report ("Technical Report on Bau Project in Bau, Sarawak, East Malaysia") at that time, a small resource update to some deposits in 2011 (published February 2012) and a small resource update in November 2012.
Resource Update Summary by Category (November 2012)
Resource Category

Tonnes

(t)

Grade

(g/t)

Measured

3,405,600

1.52

Indicated

17,879,700

1.67

Measured + Indicated

21,285,300

1.64

Inferred

51,329,000

1.32
For the 2010 resource definition Terra Mining Consultants/Stevens & Associates have classified the defined mineralization according to the definitions of National Instrument 43-101, CIMM Definitions and the Australasian Institute of Mining & Metallurgy's JORC Code 2004. Similarly, the 2011 and 2012 resource updates have been classified in the same manner by Besra/NBG.
1.8       Exploration
1.8.1     Exploration Concept
Jugan has been well defined through drilling to the current depths, the depth extent is less well defined and there remains open-ended potential to increase the resource beyond the current depth. Geophysical surveys and soil sampling campaigns have identified some nearby anomalies which will require further work and exploration/resource drilling.
The nearby (±1.5km) small resource (±45,000 ozs) at Bukit Sarin (Jugan West) has a significant anomaly on and surrounding the deposit. Mapping and scout drilling is underway and gridded soil sampling has been conducted, but the extents of the deposit needs to be tested with full exploration or resource drilling.
The BYG-Krian deposit requires further drilling to upgrade the resource beneath the current Indicated Resource in order to upgrade this Inferred zone. Additionally, there are further Inferred extensions along strike that need to be drilled also.
The remainder of the Bau goldfield contains 34 prospects or known deposits which are at the Inferred level or have suitable geological potential requiring an extensive amount of follow up work and exploration or resource drilling.
The goldfield also needs to be tested at depth below these deposits/prospects to fully understand the significant depth potential in line with the Carlin similarity model and concept. Below is a sequence of slides showing the strike extent of current resources and the depth (and strike) potential to be tested, over and above that shown by Jugan itself.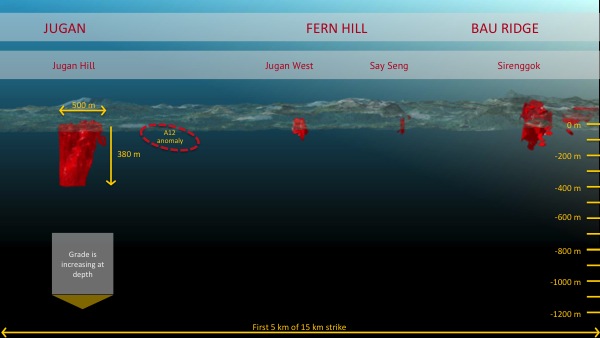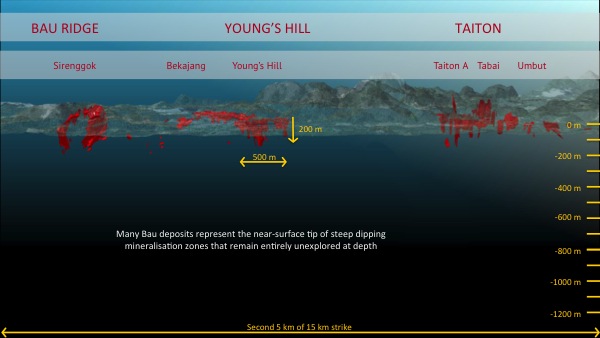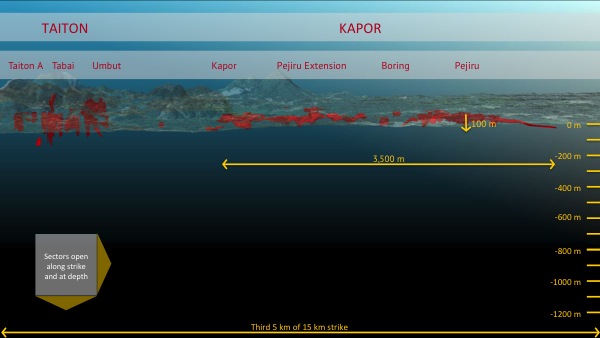 1.8.2     Status of Exploration
The feasibility study level of resource drilling has been concluded and there is currently no further exploration being conducted at either site. Follow-up ground truthing, mapping and grid auger soil sampling is ongoing along with some scout drilling in the surrounding anomalies identified.
Further resource drilling has been planned and is awaiting funding.
1.9       Mineral/Ore Reserves
A summary of reserve totals, for the contract mining base case, by Reserve Category is shown in the table below and these reserves by area/sector and deposit are also shown below.
Reserve Category

Tonnes

(t)

Grade

(g/t)

Proven

3,418,650

1.47

Probable

7,243,920

1.81

Proven + Probable

10,662,570

1.70
Sector
Reserve Category

Tonnes

(t)

Grade

(g/t)

Jugan
Proven

3,418,650

1.47

Probable

6,368,190

1.61

Proven + Probable

9,786,840

1.56

Bukit Young
Proven

0

0

Probable

875,730

3.31

Proven + Probable

875,730

3.31
 For the reserve definition work found in this report, Besra/NBG have classified the ore/mineral reserves according to the definitions in the National Instrument 43-101, CIMM Definitions and the Australasian Institute of Mining & Metallurgy's JORC Code 2012.
The economic pit limit evaluations, open pit development sequence plans, and reserve estimates are based on a gold price of $1,500/oz. This is the gold price used in the optimisation to define the ultimate pit, with the optimal pit used being within this limit. Differing gold prices have been used in the cost models and sensitivity optimisations were done at a range from $1,200 to $2,000 per ounce gold prices.
Process recoveries used are an effective recovery of 77 % for the base case concentrate option. The concentrate recovery option is based on a flotation recovery, recovery for contract processing facility and their percentage of metal content (current offers under negotiation but conservative value applied). For the optimisations using the other metallurgical processes, the following recoveries were used – 85 % (POX), 80 % (BIOX & ALBION).
Base mining cost used for 8,000tpd and concentrate base case was $1.74/t and this relates to overburden removal, with mine cost adjustment factors (MCAF) of 1.52 and 1.34 for ore mining and waste mining respectively. Processing cost for the base case concentrate option was $7.19/t with the G&A's and other selling costs as $0.16/g. Mining, processing and other costs for other processes are detailed in Chapter 21 of the report.
For the Jugan pit, comparing the designed total pit reserves for the owner operator option (9.94 Mt ore at 1.56 g/t Au) and that generated via the optimisation software (10.16 Mt ore at 1.55 g/t Au), for the same scenario, the reserves (Proven + Probable) are comparable and show 2.2 % difference in tonnage and 0.5 % difference in grade.
This difference is negligible in relation to the orebody modelling and design resolution. Therefore, the optimised schedules can be accepted as reasonable level for reserve generation for the open pits.
The comparison for the other base case (flotation concentrate, 8,000 tpd and contract-mining) is 9.79 Mt at 1.56 g/t Au for design and 9.92 Mt at 1.56 g/t Au for optimisation, which is a difference of 1.4 % in tonnage and 0.4 % difference in grade. The contract mining basecase reserves are detailed in Section 15.
Based on the optimisation runs and the applied parameters a cut-off grade of 0.39 to 0.44 g/t Au is realised for the Jugan reserves, with a strip ratio of 1.60 and 1.47 for owner-operator and contract-mining options, respectively.
For open pit inventory, the resource block model estimation methodology incorporates dilution and provides a reasonable estimate of mined tonnage and grades. However, an additional 5 % dilution is added with a 95 % mining recovery have been included as an additional factor in the pit optimisation process and in the reserves.
Based on the optimisation runs and the applied parameters a cut-off grade of 0.58 to 0.65 g/t Au is realised for the BYG-Krian reserves, with a strip ratio of 4.41 and 3.94 for owner-operator and contract-mining options, respectively.
Although the BYG-Krian pit is small when considering the Indicated only, it has additional potential in terms of the inferred both under the pit and indicated zone but also in shallow extensions around. As the resource is Inferred, in this case it cannot be considered in the reserves, the potential for pit expansion is significant in terms of the current reserves.
This can easily be upgraded with some additional resource drilling and conversion to indicated. Listed below is a comparison of the resources if Inferred was available as Indicated.
Description
Using Indicated Only
Using Indicated & Inferred
Tonnes
Au (g/t)
Tonnes
Au (g/t)
Ultimate Pit (Shell 65)
1,026,890
3.13
2,808,890
2.09
Optimal Pit (Shell 50)
1,007,380
3.11
2,696,450
2.11
Designed Pit
875,730
3.31
2,093,510
2.35
The figure below shows this impact visually.
3D Comparison of Indicated Only (top) & Indicated-Inferred (bottom) Pits
It should be noted the above is only included for comparative purposes and should not be considered as reserves.
1.10     Mining
Due to the orebody outcropping as a hill and having significant resources at a shallow depth the initial method of extraction of ore is by open pit methods. The orebody does extend down to a depth of approximately 400m and is anticipated to carry on to further depths.
Due to the orebody nature the initial mining will be free digging, with the use of dozers and ripping where harder material encountered, with loading of haul trucks by hydraulic excavators. As the pit progresses deeper the open pit mining will be done by conventional drill and blast. The open cut design was guided by the results of NPVS Scheduler pit optimisation – for both the Jugan and BYG-Krian deposits.
A number of pit optimisations runs were undertaken for a combination of all key options. These were production (4,000 tpd to 12,000 tpd in 2,000 tpd increments), contract mining vs. owner operator mining, and by process method (POX, BIOX, Albion & Concentrate).
Gold price ranges were tested from $1,200/oz to $2,000/oz with a $1,500/oz finally selected. The difference between the $1,200/oz and $1,500/oz was negligible in terms of tonnes and grade so the $1,500/oz was suitable to use. This defined the ultimate pit with a practical and lesser optimal pit selected based on set criteria. The appropriate or latest gold price is used in the cost model and project schedule.
Costs and parameters used in the pit optimisation were defined from first principles, developed iteratively or based on known costs at Besra's other operations. Detailed costing, optimisation parameters (ultimate pit, pushbacks and schedules), and other parameters are detailed in Section 16 of this report.
Shown below are examples (base case – 8,000 tpd) of the initial and final optimised pits for Jugan and BYG-Krian.
Jugan Optimised Pit – Initial & Final
BYG-Krian Optimised Pit – Initial & Final
Geotechnical parameters were provided by the geotechnical team. These were based on detailed geomechanical logging of resource and metallurgical drillholes throughout the full extent of the orebody and including surface mapping of the outcrops. This data was used to model geomechanical values into a 3D geomechanical model used to either define area/depth slope angles by geomechanical zones or the actual model point values used in the design process.
Detailed pit designs were done for the two base cases only – 8,000 tpd contract and owner operator mining. The reserves from these designs were comparable to the applicable pit optimisations. Therefore, pit optimisation reserves were deemed suitable for the other alternate options. The Jugan and BYG pit designs are shown in plan and 3D views below respectively.
Jugan Detailed Pit Design – Plan & 3D View
BYG-Krian Detailed Pit Design – Plan & 3D View
The mine layouts are shown in Section 1-12 Infrastructure & Ancilliary below. These incorporate the open pit, TSF, waste landform, offices and plant and the roading and water infrastructure.
Detailed mining equipment lists (owner-operator only), and mining and associated labour are detailed in the body of the report.
1.11     Metallurgy & Ore Processing
1.11.1   Metallurgy
Both the historical and recent Besra metallurgical testwork on the Jugan ore deposit have demonstrated that the majority of the gold is associated with arsenopyrite and pyrite with the remaining gold present in silicious gangue material. The recovery of gold from the ore requires a gold pre-concentration step in a treatment flowsheet comprising crushing, grinding, desliming and flotation to produce a high gold grade concentrate. For the base case and preferred option the flotation concentrate will be filtered to about 10 % moisture, packaged and sent to an outside smelting or gold refining operation.  The sale of a flotation concentrate offers the lowest capital expenditure and the lowest operating expenditure as well as the the highest return on investement compared with treating concentrate on site.
Additional options which have been considered in the testwork include further treatment of the flotation concentrate in one of three oxidation processes (Albion, POX or BIOX). The oxidized concentrate is then treated by conventional carbon-in-pulp cyanide leaching (CIL), elution, gold electrowinning and gold dore melting. The CIL tailings are detoxified by the copper catalyzed SO2/Air process and the eluted carbon regenerated for recycle to the CIL.
POX delivers the highest gold extraction (98%) at the lowest cyanide consumption rate (6kg/t). Gold extractions for both the BIOX and Albion are substantially lower at around 90 % with higher cyanide consumptions up to 15 kg/t. The unit cost of cyanide has a large impact on the operating cost. In addition to higher OPEX, the Albion process has the highest risk with only one commercial plant in operation at the Las Lagunas project in the Dominican Republic. The advantages of the POX are in part offset by a higher CAPEX than for BIOX and the Albion.
1.11.2   Flotation Concentrate (Base Case Option)
The Jugan ore exhibits a very low abrasion index and moderate bond ball mill work index (12.3 kWh/t).
The assay data for the Jugan ore zones indicate that there is very little difference with respect to mineral distributions in the ore zones apart from minor variations in arsenic and gold contents. The increases in arsenic coincide with increases in gold showing an evident correlation. Based on sulphide sulphur and arsenic assays the ore is estimated to contain between 2 and 2.5 wt % arsenopyrite and 4.5 to 5 wt % pyrite with a combined arsenopyrite-pyrite in the feed in the range 6.5 to 7.5 wt %.
The mineral assemblage is identical for all the Jugan ore zones tested across the deposit. The bulk of the Jugan ore feeds comprise non-sulphide gangue which is dominated by very fine grained Illite (mica) and silica. This results in production of excessive slimes after fine grinding.
Gold deportment testing showed that very little gold is leached in whole ore cyanidation (0.6 to 2 %). About 70 % of the gold is associated with the arsenopyrite, 25 % with the pyrite and 5 % with silica.
In excess of 95 % of the gold can be recovered in rougher – scavenging flotation.  Due to varying slime entrainment the mass pull varied between 17 and 33 wt%. To mitigate the effect of feed slimes the flotation feed will be first deslimed by cyclone or a continuous gravity concentration. Flotation feed desliming test work is still in progress.
Bulk rougher-scavenger followed by cleaner flotation without prior desliming has shown that 90 % of the gold can be recovered in a mass pull of 10 wt %. This corresponds to a gold upgrading ratio of 9:1 with respect to the feed grade. Mineralogical composition of a cleaner concentrate showed that the arsenopyrite and pyrite account for 67.4 wt% of the cleaner flotation concentrate. The remaining was comprised of 17 wt% mica (Muscovite), 6 wt% quartz, 6 wt% K-Feldspar, 3 wt% dolomite and minor rutile, sphalerite and siderite.
The results indicate that inclusive of a desliming step, the flotation gold upgrade factor in the rougher circuit will be approximately 9 and in the cleaner stage greater than 2, giving an anticipated concentrate grade of +30g/tAu.
1.11.3   Ore Processing
In relation to the basecase option – namely 8,000 tpd (2,920,000 tpa) and flotation concentrate process option – the process plant will likely have the following configuration:
Crushing
Grinding/Primary Cyclone
Cyclone or Continuous Knelson Desliming
Rougher/Scavenger Flotation
Regrinding/Secondary Cyclone
Cleaner Flotation
Concentrate Filter feed Thickener
Filter Press
Reagent mixing, storage and distribution
Services.
Control room &  Facilities
Support Facilities.
Concentrate will be dried and packed into bulk bags and transported by road to Kuching port facilities for export to Asian smelters.
The process flow sheet is shown below.
1.12     Infrastructure & Ancilliary
1.12.1   Infrastructure – Jugan
Two mine site layouts have been developed for Jugan. One is the base layout with an alternate should the condemnation drilling identify an ore deposit to the SW of Jugan where a geochemical and geophysical anomaly has been identified. The mine layout plan is shown below with the alternate below that. These are also shown in 3D views.
1.12.2   Infrastructure – BYG-Krian
The infrastructure at BYG-Krian is minimal and will be treated as a satellite operation with only the pit and waste dump plus haul roads required as the current mineable portion has a short time frame of operation. Should the Inferrred zones be drilled and resources upgraded then these can be converted into reserves which may extend the life of this pit. Depending on this the infrastructure may remain the similar (in terms of pit, waste landform and haul roads) or may generate the need for other infrastructure requirements. This is a number of years further on in the schedule with a suitable decision made nearer the time. The mine layout and 3D view of the current BYG-Krian pit are shown below.
1.13     Environment
Besra is actively pursuing the development of economical mineral resources in the Bau goldfield and at the same time, the company's is committed to undertake an environmental impact assessment to identify issues and data gaps to develop an environmental management and rehabilitation plan in compliance to international standard and local regulatory requirement, in order to create a sustainable environment during post-mining operation and closure. The aim is to create a post-mining environment that is at least equal in environmental value or better.
Regulatory framework and compliance plays an important role to guarantee the basis for  environmental impact assessment is being addressed appropriately to ensure sustainable development of mineral resource and at the same time,  promote environmental stewardship to ensure the mining project is being developed in an environmentally sound, responsible and sustainable manner.
Socio-economic undertaking such as stakeholder engagement, local community development, public relation and liaison present a unique opportunity for the company to encourage local community participation and interest for dialog to identify possible concerns and expectation relating to socio-economic development and environmental awareness. This will foster relations and create credibility which will further elevate the company's public image and reputation. As such, some of the key environmental aspects, which required attention as the project progresses into a viable mining operation, are:
Identification of environmental impacts and constraints associated with exploration and mining activities to ecology, socio-economic including historical / cultural sites in the area;
The ecological impacts due to alteration of pre-existing environment such as land clearing and landscape modification effecting indigenous wild life species in the area
The concern of Acid Mine Drainage (AMD) generation due to the oxidation of sulphide minerals from ore and waste and mitigation measure associated with the rehabilitation and regulatory compliance;
Socio-economic effects (both positive and negative) on local communities associated with or affected by the mining development, and the costs involved in maximising positive and minimising negative socio-economic effects; and
The scale and nature of rehabilitation scope for the eventual mine closure and post closure monitoring required for all deactivated mined-out areas and associated auxiliary structures and facilities.
Post mining environmental monitoring to ensure the success of rehabilitation and the preservation of a sustainable ecosystem.
In order to achieve the task of creating a sustainable environment post mining, control measures and mitigation methods need to be in place to counter potential environmental impact. Hence, mine planning isincorporating the following management framework for the integration of site specific mitigation design. These are:
Environmental Impact Assessment (EIA)
Environmental Management Plan (EMP)
Mine Rehabilitation Plan (MRP)
Monitoring Program
Alternatives Land Use Planning
A conceptual MRP with two updates has already been submitted to the authorities and accepted. An update to the MRP based on the Feasibility Study is nearly complete and ready for submission shortly. The majority of the baseline studies and monitoring have been undertaken over the last few years as a basis for the EIA. Some minor studies and ground water modelling are currently underway. Once complete the formal EIA submittal will begin.
Through proper incorporation of the above mentioned management framework, a progressive rehabilitation process can commence to deal with potential long-term environmental impacts due to mining. The objectives of rehabilitation schemes are to develop achievable goals at various stages as mine planning evolves by converting an area of concern to a safe and stable condition, restoring the site to a pre-mining condition as closely as possible in order to ensure sustainability development.
Mine rehabilitation is essentially a process whereby the development of mineral resources is being conducted in accordance with the principles of leading sustainable practice. Rehabilitation should be part of an effective integrated program coexisting with mine operation and mine development in all phases.
In summary, mining is a temporary use of the land, the successes of a mining venture lies with the notion that the mining operator has successfully integrated mining best practice with the development of sustainable mining operation and integrated the best mine closure standards by ensuring the future of the land is not compromised but rather in a sustainable manner.
The temporary use of the land and the current and future aspects are demonstrated below.
1.14     Capital & Operating Costs
1.14.1   Capital Costs
Capital costs for the Feasibility Study are detailed in Section 21 of this report with further detail listed in the Appendices. Listed below is a summary of the initial capital costs grouped by major elements, for the base case – 8,000tpd, gold concentrate process, and contract mining option.
| | |
| --- | --- |
| Capital Cost Group | Total Cost (US$) |
| Mining – Mobile Equipment | 0 |
| Mining – Fixed Equipment | 196,150 |
| Mining – Construction | 3,771,680 |
| Mining – Other | 336,700 |
| Total – Contract-Mining | 4,304,530 |
| Process – Main Plant Items | 24,372,000 |
| Process – Other Plant Items | 7,400,000 |
| Process – Ancilliary (incl. EPCM) | 26,775,850 |
| Total – Process Plant | 58,547,850 |
| Other – TSF Stage 1 | 8,122,880 |
| Other – Infrastructure | 8,345,970 |
| Other – General | 12,798,485 |
| Total – Other | 29,267,335 |
| Total Initial Capital | 92,119,715 |
The capital for the owner-operator option for the same scenario is $20.2M more due to the cost of the mining equipment.
An amount of is also set aside for sustaining capital. With major ongoing capital costs costed separately during the life of the mine. These are TSF stage 2 & 3 and water infrastructure additions ($19.76M); rehabilitation for pre-closure, closure and post-closure ($7.16M); and other general items ($10.32M). This gives a total of $42.76M in ongoing capital.
1.14.2   Operating Costs
Total operating costs for the 8,000 tpd base case (contract-mining) are $31.38/tonne, with the equivalent owner operator option being $38.64/tonne. The contract-mining base case is broken down in the table.
| | |
| --- | --- |
| Operating Cost Group | Cost (US$/t) |
| Mining | 9.59 |
| Processing (incl. conc. transport & processing) | 21.24 |
| General & Admin | 0.55 |
| Total Operating Cost/Tonne |   31.38 |
1.14.3   Royalties, Taxes and Incentives
In Malaysia the corporate income tax is 24 % of net taxable profits. Other taxes are GST (10 %) and where applicable a service tax (6 %) – where services only are provided.
Import duties are applicable at a rate of bewtween 20-30 % for most standard goods; however, drilling and mining equipment are subject to nil import tariffs based on the individual item and related part numbers.
There is no royalty (0 %) on gold produced in Sarawak, and there is no export duty or tariff for gold concentrate.
Exploration and prospecting costs are eligible for special tax allowances.
1.15     Project Economic 
1.15.1   Economic Analysis
The economic evaluation of the Bau Gold Project was developed in a detailed cost model using a discounted cash flow on a pre-tax basis. The Net Present Value (NPV) and the Internal Rate of Return (IRR), based on a discount rate, was calculated for each project scenario option, and in particular the two base case options.
Case
NPV
(Millions $)
IRR
(%)
Contract Mining – 8,000tpd Flotation Concentrate
91.41
38.0
Owner Operator – 8,000tpd Flotation Concentrate
97.29
34.3
 The following assumptions were made for the analysis:
Gold price of $1,300/oz – being a conservative value below the 2013 average ($1,415.48)
Discount rate applied – 8%
Pre mining occurs – production build-up 6 months – process build-up over 6 months with 1 quarter offset from production – pre-mining & construction 1 year from EIA and other approvals in place;
No escalation or inflation factor applied (constant 2013 $)
For the contract mining/owner operator case the cost per ounce is $1,159.18/oz and $1,154.43/oz
1.15.2   Sensitivity Analysis
A sensitivity analysis was conducted on the parameters deemed to have the biggest impact on the project financial performance: gold price, CAPEX, mining OPEX, process OPEX, grade & recovery. A range of gold prices form $1,100/oz to $2,000/oz and ±10% and ±20% variations on the other parameters were used around both base cases above. The NPV and IRR for the project were found to be more sensitive to gold price, grade and recovery, and less sensitive to CAPEX and OPEX.
1.15.3   Risk Analysis
A detailed risk analysis list has been developed and scored based on "consequence" and "probability" and the impact assessed with each risk having associated mitigation measures identified. Additionally, a risk matrix developed and the identification of the keys risks for further work using the mitigation measures. Other lower level risks will be addressed thereafter. This is a live document and will be updated as the project progresses.
1.16     Conclusions & Recommendations
In conclusion, Besra finds the first stage of the plan to develop and put the Bau Goldfield into production is a lean business case and economically viable strategy with manageable risks.
The region has significant opportunity for growth and by moving into detailed engineering and construction now Besra can best be setup for a return to higher gold prices and for developing long term partnerships with the smelter customers. Strategically, the concentrate option offers advantages as fuel source for the smelters while leaving Besra the opportunity for secondary processing on site should a more robust gold market return.
By moving into production now Besra is able to generate significant cash flow to further improve the gold field resources and reserves as well to take advantage of the opportunity for growth with the site infrastructure built up to then. Besra has become a stronger operator every year of its existence and the management team are fully aware of the lessons learned from the past while being cautiously optimistic about the next step in our future in Malaysia.