BESRA GOLD TO COMMENCE TRADING ON THE ASX[1]
Besra Gold to commence trading on the ASX today following a A$10 million Initial Public Offering (IPO)
Besra will embark on an aggressive exploration campaign at the Company's flagship Bau Gold Project located in Sarawak Malaysia, to further grow the significant Resource at the Project
The Bau Gold Project hosts a substantial gold resource of 73.6 Mt @ 1.43 g/t for 3.3Moz of gold (JORC 2012) on a 100% basis[2], with 80% of the JORC Resource within the top 100m from surface)
In addition to the Resource, the project has an Exploration Target[3] of between 4.89 and 9.27Moz of gold @ 1.7–2.5 g/t Au, highlighting the significant scale and potential upside of Project.
An RC and a diamond drill rig are being mobilized to site where drilling is expected to start in 2-4 weeks
Besra will focus on extending prominent brownfields targets which have returned exceptional drilling intercepts and largely remain open along strike and at depth, including:

Pejiru Deposit:

32m @ 11.4g/t Au
81m @ 3.26g/t Au

Jugan Deposit:

123m @ 56g/t Au
57m @ 3.92g/t Au

Sarawak is a Commonwealth country with a western mining code, excellent infrastructure, favourable tax regime and no gold royalty
Besra board of directors includes strong geological and metallurgical skills that have direct project experience at Bau over many years.
With a market capitalisation of $58.8 million and an enterprise value of approximately $48.8 million at listing[4], this represents a highly attractive EV/Resource oz metric of ~$15.
The Board of Besra Gold Inc (Besra or the Company) (ASX: BEZ) is delighted to advise that trading of CHESS Depositary Interests (CDIs) over Besra common shares on the Australian Securities Exchange (ASX) will commence at 3:00pm AEDT on 8 October 2021 following completion of a successful initial public offer (IPO) pursuant to the Prospectus dated 8 July 2021 and Supplementary Prospectus dated 20 September 2021.
Besra will focus on the Bau Gold Project located in Sarawak, Malaysia.  Drill rigs are currently being mobilized to site with initial drilling to focus on brownfields targets associated with the known JORC Resources deposits at Jugan, Pejiru, Bekajang and Sirenggok. Drilling at Jugan, which had been the subject of an earlier feasibility study and hosts total mineral resources of 959,000oz Au (JORC 2012), will target increasing grades at depth along the northwesterly plunging zone of mineralisation. At Pejiru, lower geological risk step-out and infill drilling will target higher grade zones, interpreted as associated with deep seated feeder systems, the source of much of Pejiru's existing 997,800oz JORC Resource, the majority of which lies within 70m of the surface.  Similar brownfields style drilling evaluation is planned at Bekajang (644,500oz Au JORC 2012 Resource) and Sirenggok (306,00oz Au JORC 2012 Resource) where the extents of existing mineralisation have yet to be fully delineated in both the lateral and vertical directions.
Besra Chairman Andrew Worland said:
"Besra's IPO cleans the Besra balance sheet and provides the funding for the Board and management to be razor focused on expanding and upgrading mineral resources at the Bau Gold Project and moving it forward through the development phase. Besra has spent more than US$40 million on exploration at Bau developing the existing mineral resources, but relatively little since 2014. The team is eager to get back on the ground.
Besra's board now includes geological and metallurgical skills that have worked at Bau in the past and I look forward to the assistance they can provide our management team. With the IPO completing Dr. Ray Shaw has commenced as Chief Executive Officer. Ray's credentials are detailed in the Prospectus. Ray's dedication to Besra over the past 18 months has been critical to the IPO.
I thank all of Besra's stakeholders for their contribution to the IPO and we look forward now to supporting Ray and the team implementing the business strategy and delivering value to our shareholders."
Canaccord Genuity Australia acted as Lead Manager to the IPO, supported by a significant allocation through Boustead Securities. Gilbert & Tobin acted as Australian legal counsel to Besra.
This announcement was authorised for release by the Board of Besra Gold Inc.
Ray Shaw
Chief Executive Officer
ray.shaw@besra.com
This announcement has been prepared for publication in Australia and may not be released to US wire services or distributed in the United States. This announcement does not constitute an offer to sell, or a solicitation of an offer to buy, securities in the United States or any other jurisdiction.  Any securities described in this announcement have not been, and will not be, registered under the US Securities Act of 1933 and may not be offered or sold in the United States except in transactions exempt from, or not subject to, registration under the US Securities Act and applicable US state securities laws.
Bau Gold Project
The Bau Gold Project is located 30-40km from Kuching, the capital city of the province of Sarawak, Malaysia on the island of Borneo. Besra controls, directly and indirectly, a 97.8% interest (92.8% on an equity adjusted basis) in the Bau Project. The project lies at the western end of the arcuate metalliferous belt extending through the island of Borneo. In Kalimantan (the Indonesian jurisdiction portion of Borneo), this belt is associated with significant gold mining areas including Kelian (7Moz) and Mt Muro (3Moz).
Figure 1 – Bau Gold Project location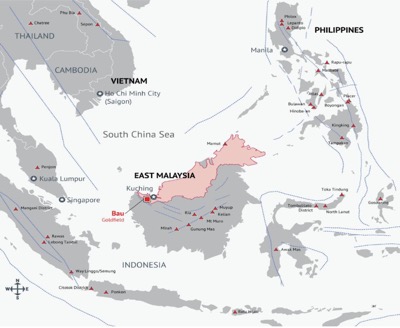 The Bau Gold Project is defined by a system of gold endowment extending across an 8 km x 15 km corridor, centered on the township of Bau. The Company has identified total mineral resources estimated at 72.6Mt @ 1.4 g/t for 3.3 million ounces of gold across a number of deposits (refer table below) and has an Exploration Target ranging between 4.9 and 9.3Moz3 (on a 100% basis).
The project is well serviced by first class infrastructure including access to deep water ports, international airport, grid power, communications and a multitude of service providers.
JORC Code 2012 Mineral Resources – Bau Gold Project (100% basis)

Competent Person's Statement
The information in this Report that relates to Exploration Results, Mineral Resources or Ore Reserves is based on information compiled by Mr. Kevin J. Wright, a Competent Person who is a Fellow of the Institute of Materials, Minerals and Mining, a Chartered Engineer, and a Chartered Environmentalist. Mr. Wright is a consultant to Besra. Mr. Wright has sufficient experience which is relevant to the style of mineralisation and type of deposit under consideration and to the activity which he is undertaking to qualify as a Competent Person as defined in the 2012 Edition of the Australasian Code for Reporting of Exploration Results, and a Qualified Person as defined in National Instrument 43-101 Standards of Disclosure for Mineral Projects of the Canadian Securities Administrators. Kevin J. Wright consents to the inclusion in this report of the matters based on his information in the form and context that it appears.
[1] All amounts are in Australian dollars unless otherwise denoted.
[2] Besra has a 97.8% controlling interest and 92.8% economic interest in the Bau Gold Project through its direct and indirect shareholding in North Borneo Gold Sdn Bhd.  See section 3.3 of the Prospectus for further explanation.
[3] The potential quantity and grade of the Exploration Targets is conceptual in nature; there has been insufficient exploration to estimate a Mineral Resource and it is uncertain if further exploration work will result in the estimation of a Mineral Resource as detailed in the Prospectus. Refer Prospectus Section 3.11
[4] Based on the IPO price of A$0.20 per CDI.