ASX ANNOUNCEMENT
31 July 2023
ASX : BEZ
HIGHLIGHTS
Binding Gold Purchase Agreement (Facility), for up to US$300 million, signed with major shareholder Quantum Metal Recover Inc (Quantum), giving effect to the non-binding Terms Sheet announced to ASX on 21 March 2023.

 

Initial Deposit of US$5.0 million received as a prepayment for the purchase price of gold to be sold to Quantum in accordance with the Facility to develop the Bau Gold Project.
On Tuesday 25 July 2023 (Australian Eastern Standard Time) shareholders approved the US$300 million Facility.

 

Subject to shareholder approval, Besra to increase its shareholding to 98.5% in North Borneo Gold Sdn Bhd, the holding company of the Bau Gold Project.

 

Step-out drilling program at Bekajang continues off the back of strengthened gold potential encountered in hole BKDDH-27.

 

Environmental Impact Assessment for Jugan pilot plant approved.
Senior Management changes implemented in anticipation of development phase.

 
The Board of Besra Gold Inc (ASX: BEZ) ("Besra" or the "Company") is pleased to provide this Activities Report for the June 2023 Quarter, which accompanies the Quarterly Cash Flow Report. 
Bekajang Project
The Bekajang Project (Bekajang) (Figure 1) lies along a very prospective trend that includes two historical mine sites (Figure 2). The Bukit Young Gold pit (BYG) was mined until September 1992, prior to the redevelopment of Tai Parit that, according to mine records, produced some 440,926 tonnes at a grade of 4.51 g/t Au. Tai Parit recorded production of some 700,000 oz of gold, of which approximately 213,000 oz @ 7 g/t was produced between 1991 and 1997 by Bukit Young Gold Mine Sdn Bhd, the last commercial operator within the Bau Gold Field corridor. 
Historical drilling provides the basis for a substantial JORC 2012 compliant Resource inventory at Bekajang, comprising:  
A Measured and Indicated Resource totalling 120.4 koz @ 2.0 g/t Au;
An Inferred Resource of 524 koz @ 1.5 g/t Au; and
An additional Exploration Target of 0.50 – 0.80 Moz @ 2.0 – 3.0 g/t Au, respectively. Bekajang Drilling Program
A second drilling round at Bekajang commenced on 29 December 2022. This followed completion of an initial round of fully cored diamond drilling by Besra earlier in 2022, involving 21 fully cored drill holes (BKDDH- 12 to -30, totalling 1,402m). During the June 2023 Quarter, a total of 919m of fully cored drilling was undertaken (March 2023 Quarter – 810m). This second program was focused along the northern and western perimeters of the historical Bekajang tailings dam (Figure 2) and involved essentially step-out drilling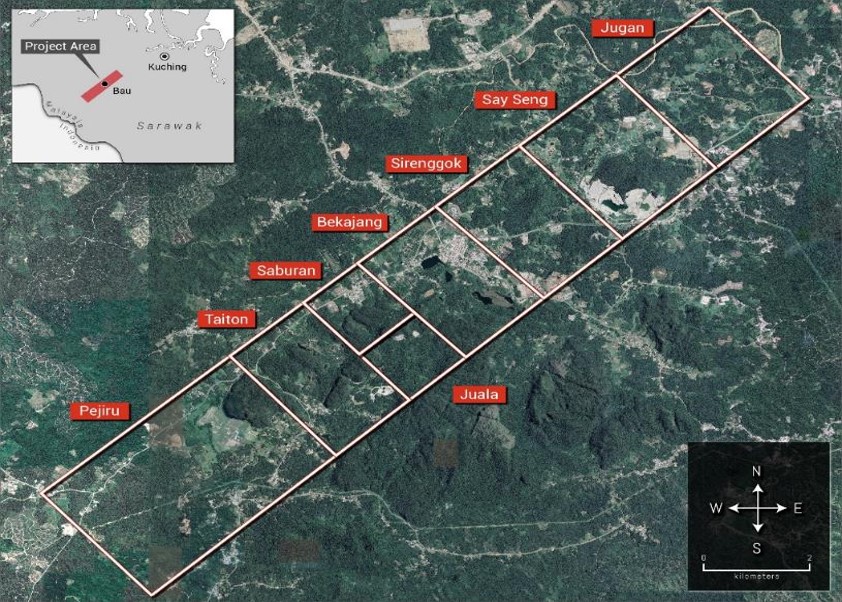 Figure 1: Locations of the Jugan & Bekajang Projects (highlighted within red boxes) on the Bau Gold Field corridor. Bau township lies adjacent to Bekajang and approximately 30km-40km from Sarawak's capital, Kuching (refer inset)
designed to determine the spatial extent of the Bau Limestone bonanza gold grade interval intercepted in hole BKDDH-27[1]. In drill hole BKDDH-27, the bonanza grade intercept is quite separate and distinct from intercepts of mineralisation typically forming the traditional target associated with the overlying Limestone- Shale Contact.
During the June 2023 Quarter, step-out diamond core drilling continued around BKDDH-27. Based on preliminary visual inspection of the recovered core, a south-southwest trending deeper interval of more intense hydrothermal alteration became the area of interest with a further 6 drill holes (BKDDH-39 to -43 & -45) being drilled to investigate its extent in this direction. A summary of the drill hole specifications is contained in Table 1.
[1]Refer ASX release dated 22 November, 2022 "Exceptional High and Bonanza Grade Gold Intercepts Bekajang."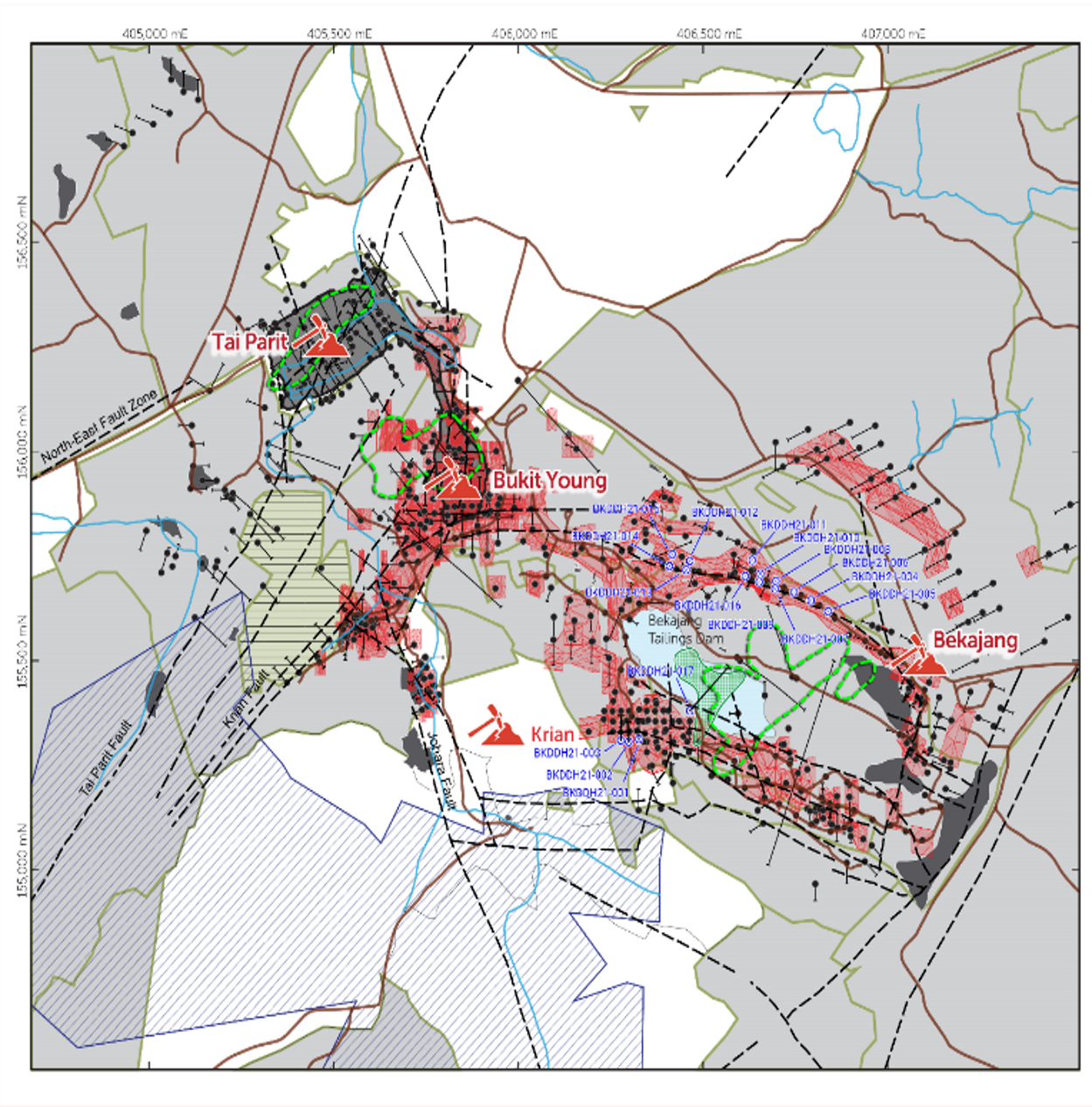 Figure 2: Location of the prospective Bekajang – Bukit Young – Tai Parit trend showing Resource wire- frames (in puce) and Besra's 2022-2023 Bekajang diamond drilling program (blue annotation). Dashed green outline represents interpreted footprint of intrusive body situated at depth beneath the Bekajang tailings dam, based on DIGHEM anomalies. Details contained within the purple rectangle are further illustrated in Figure 3.
Assay results from this additional drilling are expected to be received and integrated into an updated geological model of mineral endowment during August 2023.
Table 1 – Drill Hole specifications for 2023 Bekajang drilling program.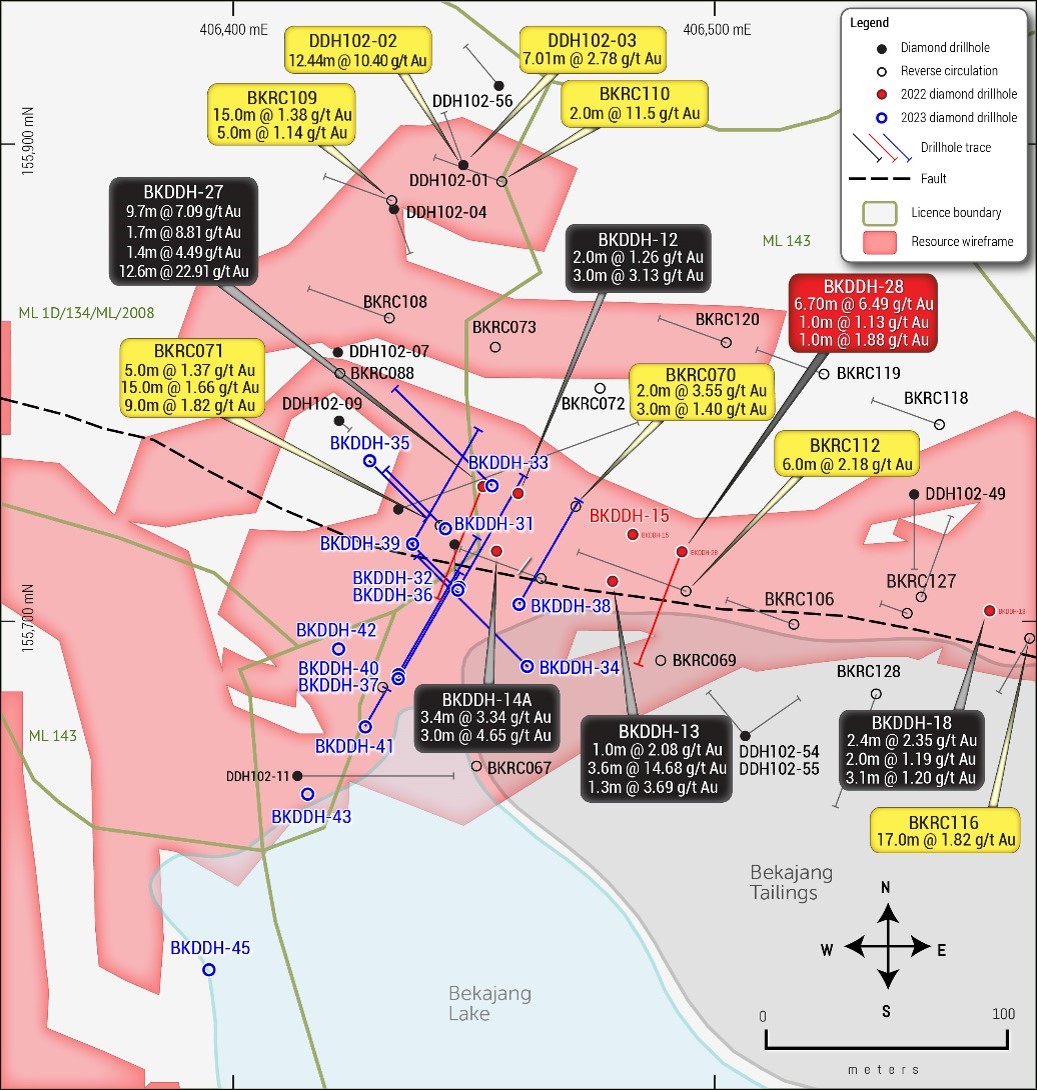 Figure 3: Locations of follow-up, second drilling program at Bekajang (in blue) with historical drill hole locations, together with summarised significant intercepts for drillholes relating the results of Besra's initial 2022 diamond drill hole program undertaken by Besra (BKDDH-13 to BKDDH-32).
The Jugan Project (Jugan) is located approximately 6km NE of the Bau township (Figure 2). Contained within the Pedawan Formation, the mineralisation is shallowest across a local topographic high – Jugan Hill.
Previous drilling has formed the basis of the current JORC Resource at Jugan which comprises:
Previous drilling also revealed the bulk of mineralisation to be confined to a thrust sheet bound between two thrust faults, the hanging and footwall thrusts, vertically separated by between 40m – 100m. Towards the northeast, the thrust bound mineralisation rolls over to form a steeply plunging limb. It remains open at depth.
Jugan Environmental Impact Assessment
On 24 May 2023 the Company announced that the Natural Resources and Environment Board (NREB) Sarawak had approved the Environmental Impact Assessment (EIA) for the proposed test/pilot gold mining and processing at Jugan located in the Bau Gold Field corridor on MLs. The EIA, together with the ancillary documentation relating to mine rehabilitation and details of the pilot plant specifications (in compliant format) will now be lodged with the Lands & Surveys Department of the Ministry of Natural Resources and Urban Development for approval to commence "mining activities" within ML 01/2013/1D. In the interim, activities are being undertaken in accordance with the Early Commencement Works authorisation granted by the NREB in December 2022. This includes "sterilisation drilling" to ensure that the proposed pilot plant infrastructure will not inadvertently sterilise access to potential commercial mineralisation.
EIA approval is typically a long lead time item, imperative for the construction and operation of our proposed test/pilot plant processing facility and the associated mine pit. The pilot plant will have an initial nominal throughput capacity of 50 tpd, although it can be expanded to 400 tpd. This throughput range will ensure, as far as possible, valid commercial scalability of the processing results which will form an integral part of the final feasibility study input for Jugan. In the interim, the design of the pilot processing plant is largely completed and procurement requirements sourced. KTA (Sarawak) Sdn Bhd (Sarawak's largest engineering company) has been engaged to provide project management during the build and commissioning of the pilot plant. Design of the processing plant and component inventory (to be sourced from a reputable Chinese mining equipment manufacturer) were completed, site civil works detailed and suitable contract mining companies identified during the June 2023 Quarter.
Surveying
During the June 2023 Quarter, expressions of interest were received to undertake a base-line soil and surface water survey of the proposed pilot plant and neighbouring areas. This survey is intended to provide a robust independent base-line dataset of the soil and surface water (runoff) chemical quality prior to the commencement of any pilot plant site activities. It will include monitoring stations for repeat measurements to provide not only early warning indications of environmental hazards, but also measurements for assessing Besra's environmental performance during the lifetime of the pilot plant. This survey is expected to commence in July 2023.
In June 2023, the Company engaged Resources Survey Services to undertake detailed boundary and topographical surveys in areas surrounding and included in the pilot plant footprint of ML 05/2013/1D and ML 01/2013/1D. Results are expected in August and will provide high resolution topographic details for finalising the pilot plant, test pit layout and civil earthwork requirements.
[2]ugan Exploration Target ranges between 4.9 Moz – 9.3 Moz based on a range of grades of 1.82 – 2.50 Au g/t.
[3]The potential quantity and grade of the Exploration Targets is conceptual in nature; there has been insufficient exploration to estimate a Mineral Resource and it is uncertain if further exploration work will result in the estimation of a Mineral Resource.
Drilling
No drilling was undertaken at Jugan during the June 2023 Quarter, however, land access negotiations with local landowners and occupiers was undertaken and access ways and drill pads for future "sterilisation" drilling commenced, in anticipation of the recommencement of drilling during the September 2023 Quarter.
Regional Studies
During the June 2023 Quarter, a study of regional metallogenic zonation, as a guide to mineralisation extensions within the Bau corridor, was completed by Dr Gregg Morrison and Mr Harry Mustard. Using the very significant historical data base of elemental analyses the maximum z-score method was used to identify domains with specific elemental endowment as potential markers to the main sources of mineralisation.
A classical metal elemental zonation pattern for the hydrothermal system was consistently observed within the Bau corridor across most prospects. Analysis of the comparative elemental endowment of Te, Mo, Cu, Bi, Au, Tl, Zn, Ag, Pb, As, Sb & Hg provides indications of the spatial distribution of the mineralisation, relative to the generative heat sources. The study has helped understand the spatial distribution of compositional and textural styles of Bau mineralisation including revelation of their associations with both structuring and mid Tertiary intrusives. As a follow-up to the occurrence of free gold observed in BKDDH-27, settings more conducive to the occurrence of non-refractory gold have been identified. This will assist in the design of future resource drilling programs.
Corporate
On 3 April 2023, the Company announced the appointment of Mr Michael Higginson as Company Secretary.
On 4 April 2023, the Company announced the receipt of an 'Initial Deposit' of US$2m, from Quantum in accordance with the non-binding term sheet for the US$300m Facility. On 23 May 2023, the Company announced the receipt of a further US$3m from Quantum representing the balance of the Initial Deposit. These funds were held in escrow pending of the receipt of shareholder approval (which was obtained on 25 July 2023). The Facility is scheduled to deliver up to US$10m each month, commencing September 2023. Thus removing the need for dilutive equity financing and project/corporate debt that would encumber Besra with hedging requirements and/or onerous covenants during its development phase.
On 9 May 2023, the Company announced that it and its wholly owned Malaysian subsidiary, North Borneo Gold Sdn Bhd (NBG), had entered into the legally binding Facility agreement with the Company's major shareholder, Quantum, giving effect to the non-binding term sheet announced on 21 March 2023. Under the terms of the Facility, the Company has agreed to sell to Quantum a quantity of refined gold from the Bau Gold Project (or any other gold project owned by the Company or its subsidiaries at any time) until:
(i) 3,000,000 ounces of refined gold has been received by Quantum; or
(ii) aggregate deposits in an amount equivalent to US$300,000,000 have been received by the Company from Quantum.
Having received, subsequent to the end of the Quarter, the required ASX and shareholder approvals, the Facility is now only conditional upon the completion of security documentation.
Also included in the 9 May 2023 announcement were senior management and board changes reflecting the Company's anticipated move towards future production at Bau. Dr Ray Shaw moved into the role of Chief Technical Officer, to focus his attention on the development of the Bau Gold Project, enabling theappointment of a replacement CEO. Perth-based Acacia Executive Search was appointed as Besra's executive search agent to recruit a replacement CEO. In the meantime, Dr Shaw's former corporate duties will be shared between the Company's Executive Director, John Seton and Chair, Jocelyn Bennett (who has assumed the role of Executive Chair). The Company also noted that it would continue to look to strengthen its board by the addition of industry-experienced professionals with a proven history of project delivery.
As part of a move to increase its ownership of the Bau Gold Project, the Company announced on 10 May 2023 that it had reached agreement with Pangaea Resources Limited (Pangaea), a substantial shareholder of the Company and an entity associated with Besra's Chair (Jocelyn Bennett), to acquire from Pangaea 1,802 shares in the issued share capital of NBG (Agreement). Given that NBG is the owner of the Bau Gold Project and that the NBG's shares are free-carried or funded through development of Bau, the Board considered this acquisition to be both commercially and administratively advantageous as well as being structurally practical. Once completed, the Company will increase its holding in NBG by 0.72% to 98.5% (93.55% on an equity-adjusted basis) and reinstate a simplified shareholding of NBG to just two parties, the Company and Gladioli Group. The consideration to be paid to Pangaea by Besra for the NBG Shares comprises: 10,000,000 Besra CDIs; and 20,000,000 options to subscribe for Besra CDIs, each exercisable at a 33% premium to the Company's 30 trading day VWAP prior to 9 May 2023 and expiring two (2) years after issue, (collectively, the Consideration Securities). It is expected that the Consideration Securities will be subject to 12 months' mandatory escrow following approval by shareholders.
As Pangaea is a related party, the notice of meeting to approve the Agreement is required to include an independent "fair and reasonable" expert report. The Agreement is also subject to obtaining all pre-emptive rights (if any) with respect of the transfer of the NBG Shares. No date have been fixed for this meeting.
Table 2 – Capital structure as at 30 June 2023.

Subsequent Events
At a Special Meeting of shareholders held on 25 July 2023, the Facility executed on 9 May 2023 was approved. Following which, Quantum paid to Besra the first tranche under the Facility, being US$5m (A$7.473k) on 25 July 2023.
Additional ASX Listing Rule Disclosures
ASX Listing Rule 5.3.1 – Payments for direct exploration expenditure during the June 2023 Quarter totalled $1,116k (YTD $3,621k.) Details of the exploration activities undertaken during the Quarter are as noted in this Activities Report.
ASX Listing Rule 5.3.2 – The Company has not yet commenced mining production and development activities.
ASX Listing Rule 5.3.3 – There were no changes to Besra's interests in the Bau Gold Project.
ASX Listing Rule 5.3.4 – Besra was admitted to the official list of the ASX on 8 October 2021 following completion of an IPO raising. The June 2023 Quarter is included in a period covered by the use of funds statement in the IPO prospectus lodged with ASX under Listing Rule 1.1 condition 3.
A comparison of the Company's actual expenditure up to 30 June 2023 on the individual items in the "use of funds" statement since the date of its admission to the official list against the estimated expenditure on those items in the "use of funds" statement in the Company's prospectus is set out below, as required by ASX Listing Rule 4.7C.2.[4]
Table 3 – Comparison of actual expenditure to date.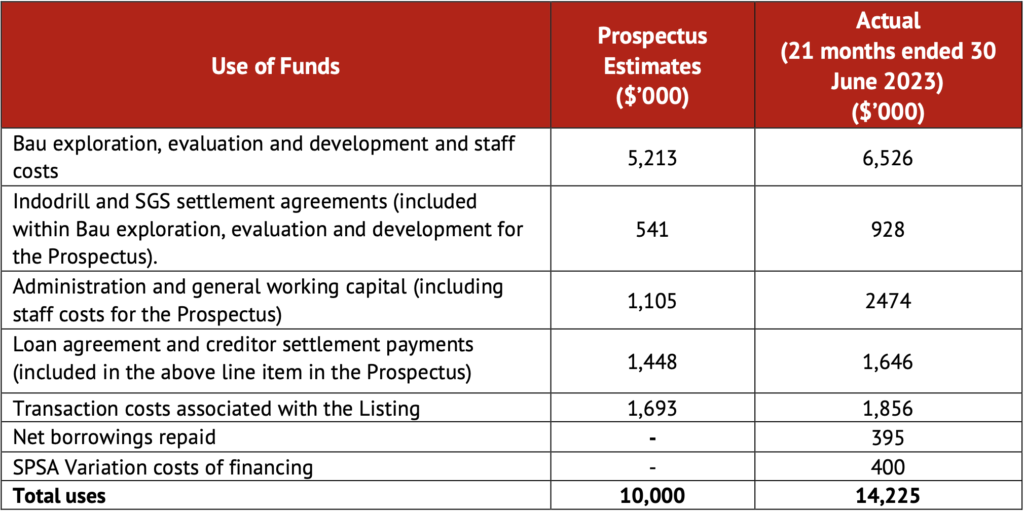 Because of better than expected drilling results at Jugan and the interception of bonanza grade mineralisation at Bekajang, exploration, administration and general working capital expenditures have increased relative to those which had been estimated prior to listing and the commencement of drilling.
The Company notes:
 New capital was received within the first year since admission to expedite the Bau Project, following the positive results from the planned 2022 drilling programs.In October 2022, $1,000,000 was raised from a placement with the Company's substantial shareholder, Quantum (Placement).
Following the receipt of the Placement funds and the completion of an Entitlement Offer on 3 January 2023, Besra's operations accelerated.
Settlement agreements with SGS and Indodrill were satisfied on 28 April 2023.
Activities at the Bau Project continued during the June 2023 Quarter and focused on the Bekajang and Jugan Projects. This included drilling within Bekajang and on-going design and preparatory works for construction and commissioning of a test pit and pilot plant at Jugan.
ASX Listing Rule 5.3.5 – payments to related parties during the Quarter as outlined in sections 6.1 and 6.2 of the Appendix 5B consisted of the following:
Non-executive director fees included staff costs for services provided during the Quarter totalled $33k are included in 2.1(d) of the attached Appendix 5B.
Executive director fees for services provided during the Quarter and capitalised to exploration and evaluation costs amounted to $54k are included in 2.1(d) of the attached Appendix 5B.
[4] Forecast expenditure classifications used in the Prospectus may differ from the classifications used in the Appendix 5B. The additional expenditure incurred in the 21 months ended June 2023 was facilitated by the by the $1mprivate placement and $5m rights offer in October 2022 and January 2023 respectively.
BACKGROUND
Overview of Bau Gold Project
The Bau Gold Project is located 30km – 40km from Kuching, the capital city of the State of Sarawak, Malaysia, on the island of Borneo (Figure 4) and centred on the township of Bau (Figure 1).
Besra controls, directly and indirectly, a 97.8% interest (92.8% on an equity adjusted basis) of the Bau Gold Project. This project lies at the western end of an arcuate metalliferous belt extending through the island of Borneo. In Kalimantan, the Indonesian jurisdiction portion of Borneo Island, this belt is associated with significant gold mining areas including Kelian (7 Moz) and Mt Muro (3 Moz).
The Bau Gold Project is defined by a gold bearing mineralisation system covering approximately an 8km x 15km corridor. Within this corridor Besra has identified JORC (2012) Resources (Table 4) across a number of discrete deposits of Measured 3.4 Mt @ 1.5g/t Au for 166.9koz, indicated 16.4 Mt @ 1.57g/t Au for 824.8 koz and Inferred 47.9 Mt @ 1.29 g/t Au for 1,989 koz. In addition, the Project has a global Exploration Target ranging between 4.9 Moz and 9.3 Moz[5],[6] (on a 100% basis). The region is well serviced by infrastructure including ready access to deep water ports, international airport, grid power, communications, and a multitude of service providers.
Mineral licences comprising the Bau Gold corridor in which the Company has an interest are shown in Appendix A.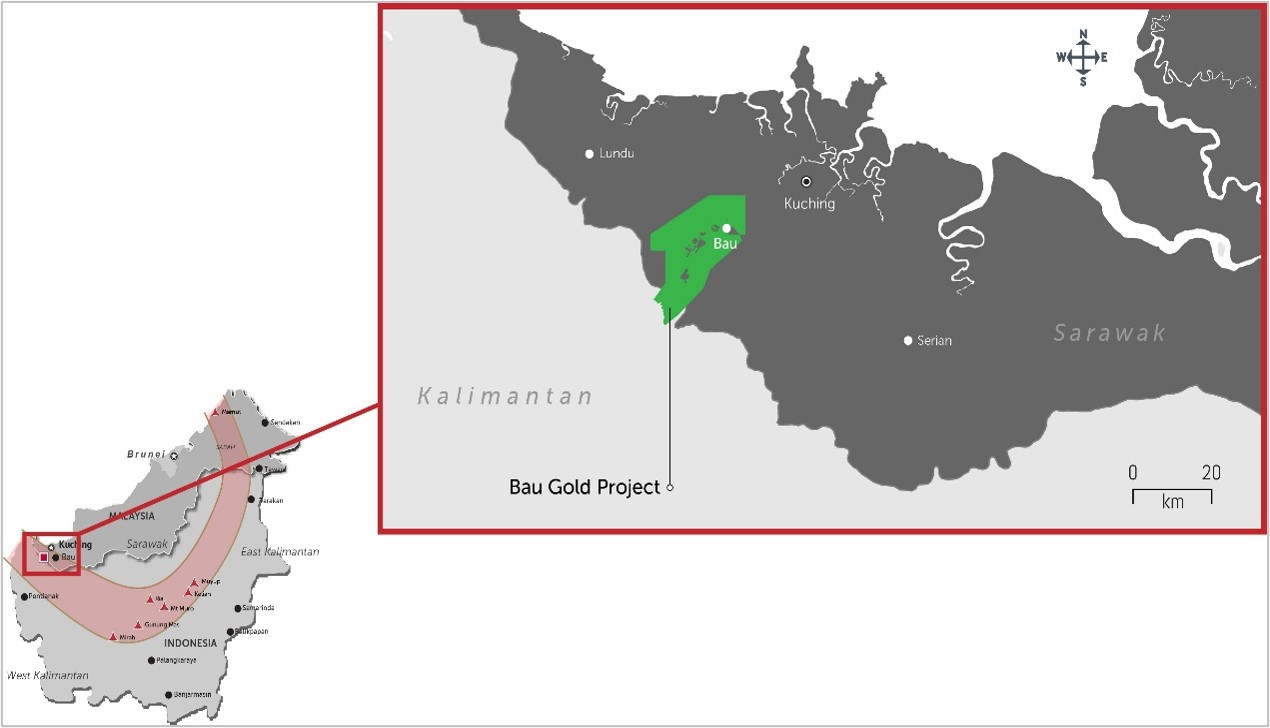 Figure 4: Location of Bau Gold Project. Inset shows tenement interests within Sarawak and location of metalliferous belt traversing the island of Borneo (in red).
Table 4– JORC 2012 Compliant Resources for the Bau Gold Field Project[7].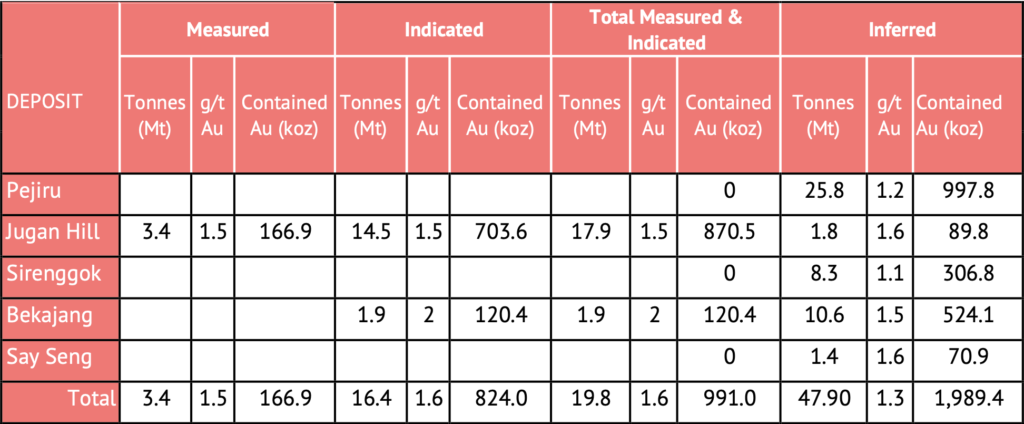 This ASX release was authorised by the Board of Directors of Besra Gold Inc.
For further information:
Australasia

North America

James Hamilton
Investor Relations Services
Mobile: +1 416 471 4494
Email:   jim@besra.com
Competent Person's Statement
The information in this Announcement that relates to Exploration Results, Mineral Resources or Ore Reserves is based on information compiled by Mr. Kevin J. Wright, a Competent Person who is a Fellow of the Institute of Materials, Minerals and Mining (FIMMM), a Chartered Engineer (C.Eng), and a Chartered Environmentalist (C.Env). Mr. Wright is a consultant to Besra. Mr. Wright has sufficient experience which is relevant to the style of mineralisation and type of deposit under consideration and to the activity which he is undertaking to qualify as a Competent Person as defined in the JORC Code (2012 Edition) of the Australasian Code for Reporting of Exploration Results, and a Qualified Person as defined in National Instrument 43-101 Standards of Disclosure for Mineral Projects of the Canadian Securities Administrators.
Kevin J. Wright consents to the inclusion in this Announcement of the matters based on his information in the form and context that it appears.
Disclaimer
This Announcement contains certain forward-looking statements and forecasts concerning future activities, including potential delineation of resources. Such statements are not a guarantee of future performance and involve unknown risks and uncertainties, as well as other factors which are beyond the control of Besra Gold Inc. Actual results and developments may differ materially from those expressed or implied by these forward-looking statements depending upon a variety of factors. Nothing in this Announcement should be construed as either an offer to sell or a solicitation of an offer to buy or sell securities.
This Announcement has been prepared in accordance with the requirements of Australian securities laws and the requirements of the Australian Securities Exchange (ASX) and may not be released to US wire services or distributed in the United States. This announcement does not constitute an offer to sell, or a solicitation of an offer to buy, securities in the United States or any other jurisdiction. Any securities described in this announcement have not been, and will not be, registered under the US Securities Act of 1933 and may not be offered or sold in the United States except in transactions exempt from, or not subject to, registration under the US Securities Act and applicable US state securities laws.
Unless otherwise indicated, all mineral resource estimates and Exploration Targets included or incorporated by reference in this Announcement have been, and will be, prepared in accordance with the JORC classification system of the Australasian Institute of Mining and Metallurgy and Australian Institute of Geoscientists.
Disclosure
The Pejiru Sector lies within MC/KD/01/1994 which has been pending renewal for a number of years. As outlined in the Malaysian Solicitor's Report on Title (Attachment G) of the Replacement Prospectus of Besra dated 8 July 2021, until a decision is made, the intention of section 48(9) of the Minerals Ordinance is to enable mining activities to continue on a pre-existing licence, in those prior lands of MC/KD/01/1994, until a determination of the renewal is made.
The information in this announcement is based on the following publicly available announcements previously lodged on the SEDAR
platform which are available on https://www.sedar.com/DisplayCompanyDocuments.do?lang=EN&issuerNo=00001815. or on Besra's website.
1-Besra Gold Inc Bau Gold Project Sarawak Malaysia Exploration Target Inventory. Lodged SEDAR Platform Feb 26, 2021.
2-Besra Bau Project – Mineral Resource and Ore Reserve Updated to JORC 2012 Compliance. Lodged SEDAR Platform Nov 22, 2018.
[5] Refer Prospectus dated 8 July 2021, Section 3.11 and Attachment G.
[6] Jugan Exploration Target ranges between 2.0 – 3.2 Mil Oz Au based on a range of grades of 1.82 – 2.50 g/t Au. The potential quantity and grade of the Exploration Targets is conceptual in nature; there has been insufficient exploration to estimate a Mineral Resource and it is uncertain if further exploration work will result in the estimation of a Mineral Resource.
[7]Updated to reflect the impact of the expiry of Ex-ML 136, as announced to the ASX on 20 January 2023.

Besra (Accipiter virgatus), also called the besra sparrowhawk, occurs throughout southern and eastern Asia. It is a medium sized raptor with short broad wings and a long tail making it very adept at manoeuvring within its environment and an efficient predator.